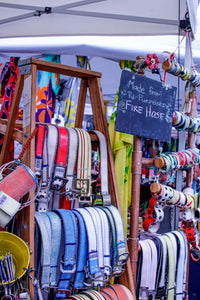 Small company, big ideas
All Hero and Hippy Chic products are handmade by our local team, empowering our communities through sustainable fashion. We're dedicated to quality and value in each of our durable, eco conscious accessories, and we stand behind our products.
By repurposing decommissioned fire hose into durable and stylish belts and accessories, we help make people look good. By donating a portion of all HERO sales to heroes and burn survivors, we help make people feel good, too.
We believe in the power of people to make a difference. Your purchase enables the creation of more local jobs, reduces landfill waste, and supports everyday heroes and burn survivors. Join us in our mission to create a sustainable world and to support the heroes that inspired our lines!